Step 1: Uploading Content
In order for us to add your course content to the ADL website, we will have to have all of the files. Depending on your course, you may have a lot of files (or large files) to share with us. Either way...

First, you'll need to upload your files somewhere that you can share it with us.
To send your files to us, you will need to upload them to the file storage/sharing service of your choosing. Below are several popular options.
Any File Type
File Storage & Sharing - These are great for more long-term uses, plus they are convenient since many of us already use one of these.

Dropbox - Upload all kinds of file types and get the share link to share them with us. 
Box - This one may be more popular with organizations. 
Google Drive - We use this internally, so it will be easy for us to save your files right to our own Google Drive for easy access. 
OneDrive - Microsoft's version of online file storage/sharing
SharePoint - This may be a more advanced option from Microsoft, but effective if you have access and are familiar with this tool.



File Sharing Services - These services are focused on just sending files, not storing them. Simply upload your file and share it. There are tons of options out there, but here are a few popular ones.
Video Files Only
Video Sharing Sites - These can be convenient if you are sending video files only and already have an account.
---
TIP
If you have multiple files to share, many of the file sharing services mentioned above all you to put them all in a folder and just get the share link for the folder, instead of each individual file. This can be a real time saver and it makes it easy to share files with us in the future, by re-using the same folder!
---
Check out the video below to see how to share a file or folder using Dropbox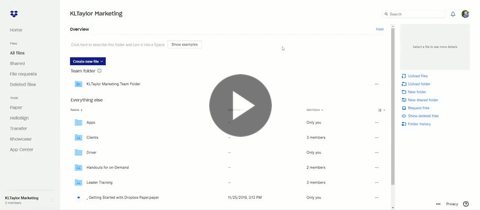 ---
Now that you have your files uploaded, the next step is to get the link to share it with us.
This will vary based on the file sharing method you choose. Please refer to the instructions from your file storage/sharing provider to figure out how to get the share link.
Once you have the share link(s), you are ready for the next step.
Last updated 4 Aug 2020.